As a capital-intensive power generation technology, solar power (CSP) project of the "fuel" comes from the sun radiation, with Direct method to the sun radiation (Direct Normal Irradiance, referred to as the DNI) value, the fuel cost is zero.
In thermal power plant development, DNI numerical directly affect the precision analysis to the overall system performance and CSP plants throughout the life cycle of economic returns, so for the quality and reliability assurance of the DNI data is critical, even the smallest deviation for power generation and financial cost calculation has a significant impact.
The assessment of solar energy resources is based on historical meteorological data, which can analyze and summarize the solar radiation situation and characteristics.
The annual average DNI value is an important index to be referenced in the pre-feasibility stage of photothermal power generation project.
However, it is worth noting that during the specific operation of the plant, the solar radiation value fluctuates greatly during the year, which directly affects the output efficiency of CSP power station.
Although the geographical conditions are relatively complex and diverse, China has good lighting resources and is very suitable for developing the photothermal power generation industry.
The areas with good DNI resources are mainly concentrated in western Inner Mongolia, Tibet, qinghai, xinjiang, gansu and other northwest regions.
The annual average DNI in these regions is between 1700-2300 kWh/m2.
"China's CSP market is very promising and is one of the most important markets for CSP business," said Marcel Suri, managing director of Solargis, a leading international solar data company.
However, due to its complex geographical conditions, the solar resources and weather conditions of each solar thermal project must be comprehensively and carefully evaluated through the combination of model data and ground measurement results.
"
Recommended steps: solar resource assessment of CSP power station based on satellite data.
1. Regional analysis: mapping local DNI maps (long-term average DNI values)
2. Pre-feasibility analysis: refer to the long-term monthly average DNI value.
3. Feasibility analysis: refer to historical DNI hours (and below) values.
4. Site evaluation: carry out field measurement activities.
5. Due diligence: provide professional economic and field matching analysis report.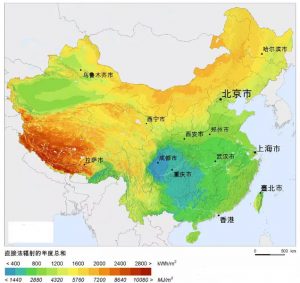 Figure: Solargis distribution of direct solar radiation to radiation in China (Solargis)
In order to accurately assess the site conditions and production capacity of photothermal power generation projects, it is desirable to refer to the reliable historical DNI data and other weather parameters for at least 10 years.
Solargis light and meteorological data, electricity provided by the simulation and consulting service to help plant owner to effectively reduce the uncertainty in technology and economy, cost savings, increased return on investment.
Solargis operates online platforms and interactive applications that can quickly access the history, recent and projected light resource data of any site around the world, specifically in:
1. Survey: site review and test.
2. Evaluation: optimize technical design to ensure maximum power output.
3. Monitoring: regularly evaluate the operation of the power station.
4. Forecast: provide weather data for real-time forecast within 10 days from the same day.
Solargis works closely with more than 1,000 companies in more than 90 countries, including the leading international companies in photovoltaic and solar energy industries.
Among them, the world bank and ifc have chosen Solargis to provide data and services for their operations.
In cooperation with the world bank group, Solargis has developed an online global solar atlas.
In addition, Solargis has provided national data and advisory services to government agencies in South Africa, Morocco, Saudi Arabia and the united Arab emirates.
In the past few years, Solargis has provided light data, advisory services and reports for CSP projects around the world, mainly in South Africa, Saudi Arabia and Italy.
For example, some of Solargis's recent collaborations include Ouarzazate and Midelt in Morocco, Aurora in Australia, Ashalim in Israel, Shams and DEWA in the united Arab emirates and Atacama and Cerro Dominador in Chile.
Project owners and the main participants of Solargis high precision and reliable data, scientific solutions, user-friendly software applications such as custom portfolio of products and professional consulting services highly.
Solar-thermal power generation industry in China, Solargis data is also used to include by guohua electric, its energy-saving, north China electric power engineering, northwest electric power design institute, longteng solar-thermal and tianjin binhai development projects.
To further share the results and experience of Solargis in the solar energy assessment, Mr. Marcel Suri will deliver a keynote speech at the eighth annual China focus conference in Beijing from March 22 to 23.
In addition, we will display and communicate the expertise of Solargis in the CSP industry and global projects in the exhibition area (booth no. : 7).